With the retirement of Dr. Tom Sims, Deputy Dean of the University of Delaware's College of Agriculture and Natural Resources, I am pleased to be appointed the third Director of the Delaware Water Resources Center (DWRC). Dr. Sims skillfully served as the DWRC director for a decade and a half and made a real and substantial difference in the careers and lives of hundreds if not thousands of students, faculty, and staff who conducted research in water science and policy here at the University of Delaware. The DWRC is one of the 54 National Institutes for Water Resources (NIWR) supported by the U.S. Geological Survey at land grant universities in the 50 states, District of Columbia, and three island territories. The DWRC celebrates our 50th anniversary of the center's designation at the University of Delaware in 1965, one year after Lyndon Baines Johnson signed the Water Resources Research Act (WRRA) on July 17, 1964. The DWRC belongs to the mid-Atlantic NIWR region that includes our colleagues at Cornell, Penn State, Rutgers, Maryland, Virginia Tech, and West Virginia.
By its favorable geography and hydrology, the University of Delaware is fortuitously situated for water resources research. The Newark campus along the fall line between the Appalachian Piedmont and Atlantic Coastal Plain, and the coastal Lewes campus along the Atlantic Ocean sit amidst two great estuary systems – the Delaware and Chesapeake. These mid-Atlantic basins contribute drinking water to a full one-tenth of the nation's population and the first (New York City), fourth (Baltimore/DC), and seventh (Philadelphia) largest metropolitan economies in the United States. The White Clay Creek National Wild and Scenic River flows through the University of Delaware here in Newark as an ideal experimental watershed for on-campus water resources research by students and faculty/staff. One of our objectives is to increase the amount of federal, state, local, and foundation support for internships and research assistantships for students and faculty to conduct water resources research here in Delaware, the Delaware Valley, and throughout America.
If you are on campus, please feel free to drop by our offices at the DGS Annex, 261 Academy Street in Newark or contact me at 302-831-4929, jerryk@udel.edu or follow me on twitter @JerryUDwater.
Warmly,
Director, Delaware Water Resources Center 
Gerald Joseph McAdams Kauffman CV May 2021 (pdf)
White Paper U.S. Water and Climate Change Policy (Jan 21, 2021 and rev. Mar 17, 2021) (pdf)
---
---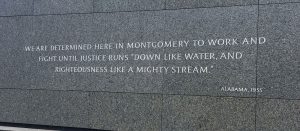 The Director's Corner
October 11, 2020
Everyone is Equal on this Blue Earth
Dear Friends and Colleagues:
I wish to refer you to the enclosed UDWRC FY21 work plan that Martha, Nicole, Andrew, and I have crafted to direct our efforts at maximum efficiency in this time of great challenges during the global pandemic and at long last our racial awakening. I am writing here from the Biden School, a place of great hope and feeling that if we stick together and learn about the social and physical sciences and treat people with decency, civility, and diversity in background and opinion that this world will be alright again and it shall be again – by next January.
https://www.wrc.udel.edu/  | https://www.wrc.udel.edu/wrc-mission/
As school resumed this fall, the health of everyone we work with is of paramount importance as we fight this pandemic.
We think our fieldwork in the fall along the White Clay Creek National Wild and Scenic River near Newark and Brandywine River in Wilmington can be safely conducted by our research students distancing and with masks and we have submitted our research plan to the University for approval.
With support from Sec 104b of the Water Resources Research Act of 1988 and the appropriation by Congress this fiscal year through the U.S. Department of the Interior and U.S. Geological Survey we are able to provide for the funded water resources research of 17 undergraduate and graduate students to examine the critical water issues of the day in Delaware and the mid-Atlantic region. So we are forging on. In Delaware and on campus we receive excellent guidance from the offices of the Governor and UD President about safe practices to stay healthy and we are committed to following these practices and most importantly wear masks when inside and out. I am tracking the science journals that indicate there are 126 different research initiatives around the world to develop a COVID19 vaccine and my bet is on the impressive young scientist at Oxford, entirely appropriate to follow in the footsteps of Edward Jenner!
I have been too reticent about this but with my heart breaking with the shootings in Kenosha, Wisconsin a place I used to work as a municipal engineer 30 years ago I just cannot be silent no more so I wish to speak. With regard to our racial awakening and indeed my own personal reckoning, I have thought about this every day and looked into the mirror and we need to do better – much, much better – Black Lives Matter! The scales are off my eyes now and at long last the stage is set for true racial equality where indeed all of humanity is created equal with certain unalienable rights endowed by our creator under the laws of nature. It's time to amend the Declaration of Independence. I have long believed that and was taught that in my family by my aunt Sister Anne Virginia who taught me selfless love and lovingly brought me books to read as a 5-year old in Port Richmond in Philadelphia and at St. Cecilia's and Bishop Eustace Prep. in Pennsauken, NJ but until now have not fully understood it because how could I am I am white and descended from Irish, Scot, and Welsh tribes with some Alsace thrown in and I am learning from my DNA that my Irish ancestors from Philadelphia fought and died to end slavery during the Civil War but they probably didn't fully know what they were fighting for then. But now I am beginning to grasp it and it is time to do something about it. The UDWRC will become more diverse, we will bring on more scientists and students of every color from Delaware and America and from every corner of the globe. When I pass the baton my successor will be a woman and our ranks will be more representative of society in creed, race, and color. This is our mission.
Three years ago I requested that our homepage fly the message from Amos 5:24 and MLK, Jr. that reminds us to "let justice roll on like a river, righteousness like a mighty stream" and these are the words that we live by and will continue to live by. I grew up in Pennsauken, NJ just blocks from the border of Camden on the Delaware and remember the riots of 1969 just a couple blocks from my school yard at St. Cecilia's and my mother's and father's pain that they tried to hide from me the year before when Dr. King and RFK were shot. I recoiled at the white supremacist march on Charlottesville and I swear that it will not happen here in Newark. I was taught to fight racism wherever it raised its ugly head up but it's not enough and so now I look back on my life almost a half century ago when as a young guy learned about true courage from the amazing Olympians of Mexico City 1968.
How do we achieve true racial equality? I don't know if I was looking for answers like that as a teenager the year before going up to Rutgers and perhaps didn't even know how to ask the question then. During the summer of 1977 my track coach was Larry James (the Mighty Burner) who ran at Villanova and was the AD at Stockton State down near Atlantic City and in the 1968 Mexico City Olympics he ran 43.97 and won the silver in the 400m and gold in the world record 4×400 relay and his teammates were three amazing men, Lee Evans, John Carlos, and Tommie Smith. I met them one day at a training camp in the Pine Barrens and they told me how they were ostracized and banned from their sport after raising their fists on the medal stand in 1968 and I was in awe of the world class athletes sitting with me but the beautiful thing is that they took this young white guy in and tried to tell me how it felt to be black and speak their minds while paying the ultimate price and banned from doing what they loved which was to run. But of course I could not understand it then but the shootings in Minnesota and Wisconsin are flashbacks in my mind back to then and the images are searing it into my senses now. These good men were a half century ahead of their time and their story is beautiful and right and true. I have their photo in my office at UD from 50 years ago with the Australian silver medalist Peter Norman who stood on that stand with them and opposed racism and supported his competitors and friends the black Americans and he too was ostracized when he went back to his country and never ran in the Olympics again. These young men black and white stood up to end racism and the old men took away the gift that God gave them, the ability to run fast! So I never fully appreciated the lessons of warmth and inclusion and forgiveness that Larry, Lee, John, and Tommie taught me during that brief time in the summer at the turn of the 80s but I look back to that lesson to help me understand now.
What is clear to me is that everyone is equal on this blue Earth, that Black lives matter, and that the only way forward is to stick together and choose love over hate. And I just want to let you know that my office at UD stands as a welcoming place of peace and tolerance and safety and I ache for my Black countrymen and those of all races who suffer from racism and bigotry in ways that I cannot begin to understand. I ask you please help me to understand.
I wish you all peace, health, and love.
Warmly,
Gerald McAdams Kauffman
---
May 2020
Delaware, The First State in Water
This has been a very good year in 2019 at the University of Delaware Water Resources Center (UDWRC) as I am pleased to report to you that the UDWRC has been recognized as "exceptional" in support of our students at Delaware universities. In accordance with the Water Resources Research Act of 1984, the U.S. Geological Survey informed the University of Delaware by letter that the UDWRC is "unique nationally" and its collaborations are "impressive," a high rating granted by the US Department of Interior. The five-year evaluation of the 54 National Institutes for Water Resources (NIWR) at land grant universities that stretch from Maine to Micronesia noted that our institute: (1) engages with universities/colleges around the state, (2) has strong leadership on the part of the Institute Director, and (3) facilitates research and information transfer closely tied to the water resources needs/issues of Delaware.
Our very good grade on the USGS report card is due to our sterling water faculty and scientists who have advised over 250 students in research and on-the-job training for careers that address the critical water issues of the day in Delaware such as coastal flooding, water pollution, and climate change.
Our national prominence in water was further cemented this year with the news that the University of Delaware student section of the American Water Resources Association was voted for the 4th time as the national chapter of the year, a feat only surpassed by the University of Wisconsin and University of Florida.
I am also grateful to have been elected in June 2019 to a three-year term to the Board of Directors of the Universities Council on Water Resources (UCOWR) at the annual meeting along Little Cottonwood Creek, Utah. My fellow UCOWR board members include faculty from Oklahoma State, Mississippi State, Penn State, Purdue, Virginia Tech, Kansas State, Delaware, Hawaii, Cal Berkeley, Washington State, and Southern Illinois. What a great group of water scientists and even better people too!
Established on-campus in 1965, the UDWRC is one of the 54 Congressionally-mandated National Institutes for Water Resources (NIWR) supported by the Department of Interior and US Geological Survey at land grant universities throughout the US by the Water Resources Research Act of 1984. Delaware was the first state to sign the Constitution in 1787 and now as we enter our 55th year on campus in 2020, we are a "First State" in water as well.
---
December 2018
Why Study Water?
Why study water? Because it's not just good for our ecology, it's also the foundation of our economy. Established on campus in 1965 after Lyndon Baines Johnson signed the Water Resources Research Act (WRRA) during the golden era of water resources in the United States, the University of Delaware Water Resources Center (DWRC) is one of 54 National Institutes for Water Resources (NIWR) situated at land grant universities stretching across the Atlantic and Pacific from Maine to Micronesia. The 54 NIWR institutions of higher learning have graduated over 25 million alumni, many who hold jobs in the sciences, engineering, arts and humanities (STEAM) that support our national economy. We're finding that the byproducts of our NIWR universities – data and knowledge – are priced differently and worth much more now in the new economy and the old supply and demand curves just don't quite capture the true economic value of water.
The WRRA/NIWR research program invests in water resources that support a hundred billion dollar economy in the United States. The American Water Works Association (AWWA) calculated the U.S. gains $220 billion in economic activity and generates 1.3 million jobs by investing in water and wastewater infrastructure. Every new water sector job adds an additional 3.7 jobs to the U.S. economy and every dollar invested in infrastructure generates $6.00 in returns. In 2005, surface waters gaged by the USGS totaled 260 billion gallons per day for irrigation, industry, thermoelectric power, and drinking water uses with an instream value estimated by the University of Delaware of $21 billion. Ecosystem services and wetland habitat in National Wildlife Refuges maintained by the U.S. Fish and Wildlife Service totaled $27 billion in 2008 dollars. The U.S. Fish and Wildlife Service estimates clean water habitat supports $157 billion in annual expenditures including $46 billion for fishing, $35 billion for hunting, and $76 billion for bird/wildlife watching.
The Outdoor Industry Association estimates the outdoor recreation economy totals $140 billion nationally for water sports such as boating, paddling, and sailing. The University of Delaware found the Delaware River in Delaware, New Jersey, New York, and Pennsylvania supports $22 billion in annual economic activity and 600,000 direct/indirect jobs. The University of Maryland estimated the nation's largest estuary, the Chesapeake, supports a trillion-dollar economy. The Nature Conservancy concluded the Colorado River drives a $1.4 trillion economy and 16 million jobs in California, Arizona, Nevada, Utah, Colorado, New Mexico and Wyoming or 10% of the U.S. gross domestic product (GDP). Investments in NIWR universities such as the University of Delaware by federal, state, and local governments are paying off handsomely in terms of jobs, careers, and GDP.
---
June 2017
2H2 + O2 = 2H2O. Q = VA. Q = ciA
These are the scientific equations that guide the movement of dihydrogen monoxide on Earth. Water is the most valuable chemical in society and it is one of the few compounds in nature that exists in the three forms of matter: solid, liquid, and gas. It's been said that water always flows downhill by gravity, yet it flows uphill toward money. My professor at Rutgers taught us that science is rational, linear, and logical yet policy (or politics) can be irrational, nonlinear, and chaotic. Maybe this explains what is going on these days.
In the week after the November 2016 election, I drove north from sea level in Delaware through the Schuylkill Valley and up and over the ridge through the Appalachian coal fields on the way to the Bucknell symposium on the Susquehanna River. And in towns like Frackville and Minersville, there was the election, downtowns tilted away from the past with economies shackled by the future. And after descending through the valley to the campus by the river on the other side, I realized that the quest for knowledge is an undeniable truth. Science and the classroom have always brought hope for a brighter future to towns just like these throughout America.
So for the first time in 30 years I went to a protest and took the train down from UD to DC to the March for Science on Earth Day on April 22, 2017. Emerging from Union Station I was proud to see on the right the Delaware flag, representing the First State in the Union. It was raining, with lots of water vapor, a perfect day for science. I rode the Citibike over to briefings at the American Association for the Advancement of Science (AAAS) and American Geophysical Union (AGU). A million scientists Subscribe Past Issues Translate RSS marched from the Washington Monument, past the White House, and up Constitution Avenue by the Smithsonian museums on the National Mall then over to the Capitol. I never saw science so strong. We marched with kids cured of cancer, biology teachers, physicians, nurses, teachers, a 95-year old astrophysicist, mobilized citizen scientists. You couldn't help get the feeling that there will be more scientists in D.C. by 2018.
At UD we are fortunate to be one of the 54 National Institutes for Water Resources in a science network that stretches from Maine to Micronesia at land grant universities in the 50 states, D.C., and the three island territories of Guam, Puerto Rico, and U.S. Virgin Islands. The 54 NIWR colleges educate over a million students annually and have over 10 million alumni from throughout the U.S. and the world. Over the last 15 years, the DWRC has supported the water research of over 250 young scientists and engineers who have gone on to productive careers in society. With the start of the fall 2017 semester in September, we are excited to be part of the Biden School of Public Policy and Administration and look forward to working with Professor Biden on the cross-cutting environmental sustainability issues of the day.
These are turbulent times. Environmental budgets are being cut. Science funding is under scrutiny. Natural-born rights are being challenged. Yet with all this uncertainty, it's reassuring to know that water always obeys the universal laws of nature. And with science as our foundation, at the University of Delaware Water Resources Center we search for new knowledge and train future scientists in an unfettered way with openness to the policies and viewpoints of all. As I tweeted before, I embrace all on Earth who seek peace and love in this nation of inalienable rights that each are born with and no government may take away. And as they say in the NIWR, water is clear–it is neither red or blue.
---
October 2016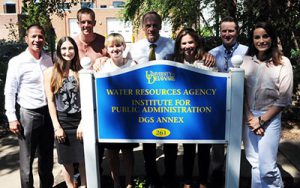 During the century-ending drought of 1999, the State Geologist once informed the Governor's Drought Advisory Committee that "a drought always ends when it rains." While no one can predict the future and our warming atmosphere makes it harder to forecast the weather, this adage is always true. This summer we sweated through the hottest August on record in Delaware in 122 years dating to 1895 and our drinking water streams such as the Brandywine have declined to the lowest levels since the record drought of 2002. The Delaware Water Supply Coordinating Council is watching this closely and a drought watch may be in the offing unless we receive tropical moisture in the name of Matthew, Nicole, or Otto.
Delaware relies on concordant relationships with our Federal water agencies and neighboring states as a full two thirds of the First State's drinking water flows from four streams that roll down from the Piedmont foothills in Pennsylvania and Maryland across William Penn's 1682 arc into the Coastal Plain of Delaware. Since the UD campus lies by the banks of one of these streams, the White Clay Creek National Wild and Scenic River, our Delaware Water Resources Center (DWRC) students have an ideal outdoor living laboratory at their doorsteps to carry out their research on droughts and floods. On a drought-like August day, our senior Senator Tom Carper, a ranking member of the Senate Public Works and Environment Committee, stopped by the DWRC offices to discuss these critical water resource issues with our water science and policy and environmental studies students. As we enter the 2017 Water Year on October 1st, we reflect on our strategic thinking about how to provide more cohesive research opportunities for budding water scientists and students here in Delaware.
Therefore, for the first time in 40 years, we are pleased to announce the merger of the Delaware Water Resources Center (est. 1965) with the Water Resources Agency (est. 1977). You can read more about the fluidity of this synchronization at our new website. Do you remember Adam Smith who discussed the invisible hand of economics? Well back in 1776 he also wrote about the diamond-water paradox.  Water (and the people who study it) are precious resources, that's always been true too!
---
March 2016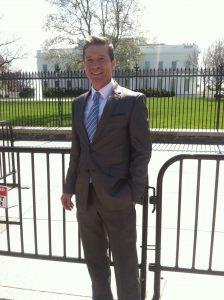 Twitter, CSPAN, the New York Times…water is increasingly in the news these days. From the California drought to blizzards and coastal flooding in Delaware, not to mention the Flint River crisis, water issues are impossible to avoid. Through all the noise of the election, the economy, and even March Madness, water is "bubbling up to the top" for the public as well as top officials from governors to the President.  I saw this first-hand when invited to represent the University of Delaware and Delaware at the White House Water Summit on March 22, 2016, which coincided with World Water Day.
These national water issues were also the focus of the National Institutes for Water Resources (NIWR) meeting this past February in Washington, DC, which Martha Narvaez and I attended with our colleagues and the directors of water resources institutes at 48 other land grant universities stretching from Maine to Alaska to Guam and the U.S. Virgin Islands. We spent much of our time discussing these national water issues with scientists from NOAA, USDA, Department of the Interior, EPA and the US Army Corps of Engineers.
It is clear that it is indeed in the national interest to address these water crises through the research and education programs supported through the USGS and the National Water Resources Research Program created by LBJ and Congress in 1964. At the DWRC, I am glad to report that we are doing our best to train the next generation to address these profound water resources issues that have great impact on the economy and ecology of the United States. At our February 29, 2016 special leap-day meeting of the DWRC Advisory Panel, we heard presentations on the work of our graduate research assistants and undergraduate interns supported by DWRC, who put on display a very impressive body of research.
Over the last year we have sponsored the research of 20 students who joined with faculty and scientist advisors across four colleges of the University to work on addressing the water resources problems of tomorrow.  I am happy to report that the future of water resources is in good hands with this cohort of budding water scientists, and that the DWRC is poised to address the water challenges in Delaware, the Delmarva, and indeed nationally and globally. Although Delaware may be small, we are always the First State for water resources.
---
November 2015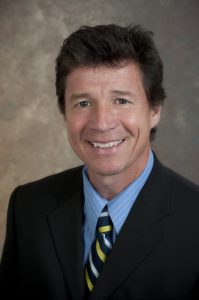 Twenty fifteen has indeed been a watershed year for water resources in the Diamond State.The Delaware Water Resources Center is celebrating the Golden Anniversary of our founding in 1965, just a year after Lyndon Baines Johnson worked with Congress and signed the Water Resources Research Act that formed the 54 National Institutes for Water Resources (NIWR) at land grant universities in the 50 states, D.C. and the three island territories of Guam, Puerto Rico, and U.S. Virgin Islands. The DWRC Advisory Panel has recommended water resources research funding from the USGS that supports 18 undergraduate internships and 3 graduate assistantships to study with faculty and scientists from five colleges at the University of Delaware. In September, the University of Delaware was chosen to host the 3rd Annual Delaware River Forum sponsored by the Coalition for the Delaware River Watershed that highlighted over $35 million in investments by the William Penn Foundation to 40 nonprofits and universities to protect and restore the watershed that provides drinking water to 5% of the population of the United States. Accepting the gavel from our NIWR colleague and outgoing President Dr. John Tracy (Director of the University of Idaho Water Resources Research Center), the University of Delaware Water Resources Center's Martha Narvaez was inducted on November 18, 2015 as the 50th President of the American Water Resources Association at the AWRA annual conference in Denver, Colorado. Completing the flow of good news, past president and geography doctoral candidate Asia Dowtin and current president and Water Science and Policy graduate student Sandra Petrakis accepted the award in Denver on November 15, 2015 as the University of Delaware was recognized as 2015 outstanding AWRA student chapter at the annual AWRA conference in Denver, Colorado. National champs! I wonder what the next ten years will bring for us here at the DWRC. Diamonds anyone?
---
August 2015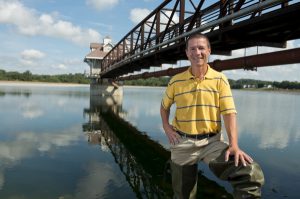 In January 2015, Dr. Jerry Kauffman was named the third Director of the Delaware Water Resources Center. Dr. Kauffman succeeds Dr. Tom Sims, Deputy Dean of the University of Delaware's College of Agriculture and Natural Resources who skillfully served as the second Director of the DWRC for a decade and a half and made a real and substantial difference in the careers and lives of many students, faculty, and staff who conducted research in water science and policy here at the University of Delaware.
---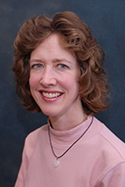 Maria Pautler
Research Associate III
(DWRC Program Coordinator 2000-2017)
302-831-0847
mpautler@udel.edu