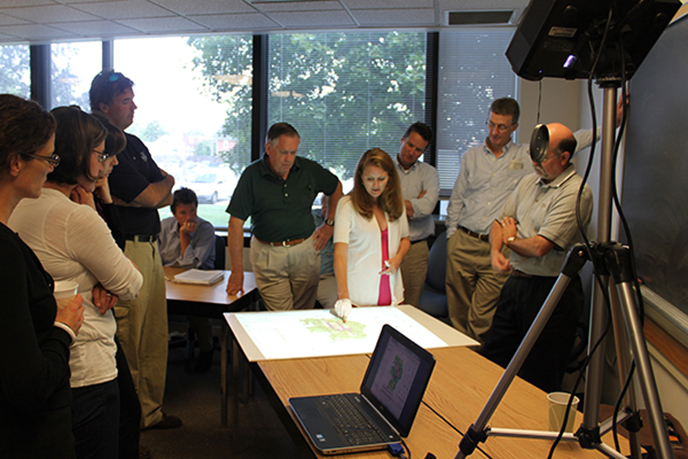 IPA's GIS personnel have been integrally involved with much of its planning, policy, and water resource–protection project work.  Over the years, personnel, equipment, and software has changed, but the mission to provide the highest quality mapping, data, and analysis to an ever-expanding scope has remained consistent.  The following are some of our past and current project areas.
Economic Development
Economic development is an area of increasing concern for IPA as well as the state and the nation.  Using spatial analysis, it is possible to model and predict market-analysis areas for business development and establish overall business profiles for a town or region.  Staff have worked with the Delaware State Housing Authority on modeling low-income housing areas, with the New Castle County Chamber of Commerce on economic-demand profiles in the county, and with areas like Georgetown and Brandywine Village on the development of trade-analysis zones.
Complete Communities
Comprehensive Planning
Much of IPA's GIS work during the past decade has focused on mapping efforts in support of municipal comprehensive planning.  Annexations, natural-resource areas, zoning issues, etc., have been compiled and mapped for inclusion in plans certified by the state.  Additionally, GIS has been used in the analysis in support of drinking water–protection ordinances and protection of wells and groundwater-recharge zones.
Buildout Ananlysis
Support for Local Watershed Associations
Education and OutreachWetlands Mapping
Watershed Mapping and Modeling
BMPs/Stormwater
Watershed Protection – A Delaware Watersheds Story
Web Mapping
Data Compilation and Automation
UD's Sustainable Coastal Communities Initiative
Who we are
Andrew Homsey – GIS Services Manager – Newark office
Nicole Minni – GIS Analyst and Cartographer – Lewes office