Vern C. Svatos – GIS Coordinator
June 15, 1941 – July 3, 2004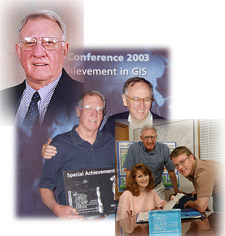 Vern Svatos, age 63 of Wilmington and Newark, DE, died peacefully at home on July 3, 2004 after a brief battle with lung cancer. Born and raised in Cleveland, OH, Vern was the son of the late Vernon E. and Ann (Kupcik) Svatos. He served in the U.S. Army, and then went on to earn a BA and MA in English/Linguistics. He continued his study of English at the University of Delaware before embarking on a career in Geographical Information Systems (GIS). Vern later worked in computer information systems in the private sector, but returned to GIS, joining Water Resources Agency (WRA) in 1994. Vern held the position of GIS Coordinator, WRA, Institute for Public Administration, University of Delaware. He developed a wide range of systems and projects used for environmental analyses. The university, community, and local and state governments valued him as a GIS educator and expert resource. Vern was passionate about his work and even more passionate about developing the potential in his students and interns.
Vern was an ardent baseball player and fan. He loved to travel with his wife in the U.S. and abroad. They often chose to forego traditional tours, instead making or losing their way down unguided paths of Vern's choosing. Vern is survived by his wife, Kim Carrigan; daughter, Erica and her husband, Lance Powers, of Chesapeake City, MD; sister, Elaine M. Svatos, of Broadview Heights, OH; many other caring relatives in Cleveland, OH; and friend and former wife, Karen Svatos, of Chesapeake City, MD.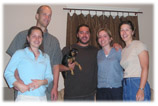 Shown in picture to the right are: Ty Fitzpatrick, Katie Clift,
and Alison Rogozenski – some of Vern's former students currently working at ESRI in CA. Also ahown area Katie's husband Andy Clift and Ty Fitzpatrick's wife.