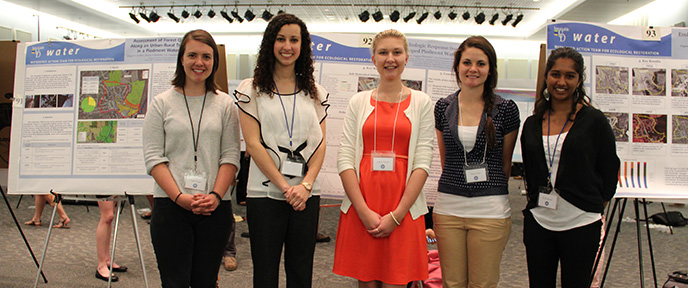 Water Resources Center Undergraduate Internships in Water Resources provide a unique opportunity for undergraduate students and faculty to become directly involved in research and education programs that address water resources related issues of critical importance to Delaware and the Mid-Atlantic region. (Please note that these internships are limited to students enrolled in a university or college in Delaware)
[DWRC Undergraduate Interns 2017-2018 and their Research Projects]
[DWRC Undergraduate Interns 2016-2017 and their Research Projects]
[DWRC Undergraduate Interns 2015-2016 and their Research Projects]
[DWRC Undergraduate Interns 2014-2015]
[DWRC Undergraduate Interns, 2000-2015]
Types of Internships, subject to availability of funds or specific project:
DWRC interns conduct a project consistent with the DWRC's priority research and educational interests (listed below) with the support of a faculty/scientist advisor from one of our co-sponsor organizations:
Water resources research and education topics of interest to the DWRC include:
Water quality (nutrients, pathogens, and public health)
Storm water runoff (management and control)
Water pollutants (sources, fate, cycling, and transport)
Water supply, demand, and conservation (infrastructure/technology)
Water policy (governance and economics)
Climate change, sea level rise coastal flooding (variability)
Groundwater (remediation and treatment)
Watershed management
Wetlands (protection and restoration)
Wastewater management (treatment and reuse)
Water, food, and energy nexus
Interested in a water-related topic not listed here? Questions? Contact Martha Narvaez, Policy Scientist, mcorrozi@udel.edu or 302-831-4931.