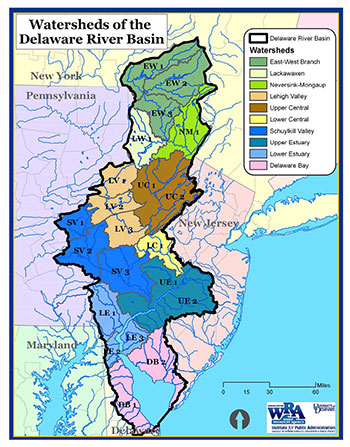 A Collaborative Effort
Nearly 400 years after Henry Hudson sailed to the bay in 1609, the University of Delaware released a State of the Delaware Basin Report that defines the health of the 13,000 square-mile watershed in Delaware, New Jersey, New York, and Pennsylvania.  The report was assembled for the Delaware River Basin Commission (DRBC) and Partnership for the Delaware Estuary (PDE) by a consortium of the four land – grant universities from the states in the basin – Cornell University, Pennsylvania State University, Rutgers University, and University of Delaware.  This collaboration represents the first time since JFK signed the DRBC compact in 1961 that the four land grant universities from the basin states have worked together in the Delaware River Basin.  The DRBC and PDE issued State of the Basin and Estuary reports in 2008 and again in 2013.
Improving the Delaware River and Bay
Since 1990 water quality as measured by dissolved oxygen, phosphorus, lead and zinc levels is improving
Delaware and New Jersey are partnering on an oyster restoration project which planted 500,000 shells on reefs in the bay
Removal of dams that have been an impediment to fish migration
1,600 Federal Superfund sites are being cleaned up and remediated
Blue crab landings are up resulting in a $7 million economy
Bald eagles, an endangered species that relies on clean streams for its fish laden diet, are returning to the basin in growing numbers
Black bears are returning to the mountain forests in the headwaters of the basin
Shad and striped bass are swimming upstream again
More forests in the basin then there were in the 1930s.
400+ miles of rivers in the basin are now protected as part of the National Wild and Scenic River program
State of the Delaware River Basin Report
The Delaware River Basin Commission plans to update the State of the Basin Report at five-year intervals.  In the next half-decade, emphasis will be placed on programs to reverse the decline of those indicators in poor health.  Recent history indicates that environmental health can be improved using the cooperative watershed approach espoused by the Federal government and the four states through the comity of the Delaware River Basin Commission and the Partnership for the Delaware Estuary.
Project Coordination:
The UD Institute for Public Administration Water Resources Agency
Principal UD researchers: Gerald Kauffman and Andrew Homsey from the IPA Water Resources Agency
Graduate students: Andrew Belden (Energy and Environmental Policy) and Kevin Vonck (Urban Affairs and Public Policy)
Undergraduate students: Christi Desisto (Civil and Environmental Engineering) and Laura Yayac (Agriculture and Natural Resources Management  Program)
Funding for the undergraduate researchers was provided by the UD Water Resources Center headed by Tom Sims.