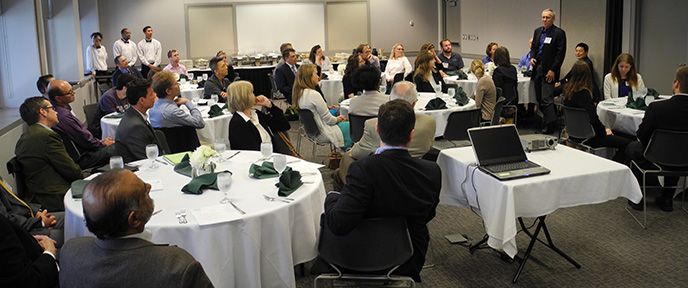 The Delaware Water Resources Center Advisory Panel is appointed by the DWRC Director and includes representation from organizations in the First State that have significant expertise and interest in water resource research, management and education. Panel members are from environmental, natural resource and agricultural agencies, the farming community, academia, and non-profit organizations.
The DWRC Advisory Panel serves many functions, including peer review and ranking of research proposals, planning of annual conferences, promoting the interaction of the DWRC with other agencies, and advising the Director on State priority water resource focal areas as well as the best ways to accomplish the Center's mission.
54th Annual Meeting of the DWRC Advisory Panel, May 16, 2019
53rd Annual Meeting of the DWRC Advisory Panel, May 10, 2018
Below is a list of the members of the DWRC Advisory Panel. You can contact panel members by e-mail by clicking on their name.
Mr. Jayme Arthurs

USDA Natural Resources Conservation Service

1221 College Park Dr., Suite 100

Dover, DE 19904

39375 Inlet Rd.

Rehoboth, DE 19971

University of Delaware

Pearson Hall

Newark, DE 19716

City of Newark Public Works & Water

220 S. Main St.

Newark, DE 19711

3120 Barley Mill Rd.

Wilmington, DE 19707

Student Section, AWRA

University of Delaware

Newark, DE 19716

Department of Agriculture and Natural Resources

Delaware State University

1200 N. DuPont Highway

Dover, DE 19901

Partnership for the Delaware Estuary

110 S. Poplar St., Suite 202

Wilmington, DE 19801

Dept. of Planning, NCC Government Center

87 Reads Way

New Castle, DE 19720

Department of Plant & Soil Sciences

University of Delaware

Townsend Hall

Newark, DE 19716

Department of Civil and Environmental Engineering 

University of Delaware

344A DuPont Hall

Newark, DE 19716

Department of Political Science and International Relations

University of Delaware

462 Smith Hall

Newark, DE 19716

Mr. Richie Jones

The Nature Conservancy – Delaware

University of Delaware

462 Smith Hall

Newark, DE 19716
Dr. Thomas McKenna

University of Delaware

223 Delaware Geological Survey

Newark, DE 19716

762 W. Lancaster Ave.

Bryn Mawr, PA 19010

University of Delaware

DGS Annex

Newark, DE 19716

P.O. Box 700

Hockessin, DE 19707

Division of Watershed Stewardship

Delaware Department of Natural Resources
and Environmental Control

89 Kings Highway

Dover, DE 19901

1289 McD Drive

Dover, DE 19901

603 E. Matson Run

Wilmington, DE 19802

Brandywine Valley Association

1760 Unionville-Wawaset Rd.

West Chester, PA 19382

Kent County Cooperative Extension

Department of Plant and Soil Sciences

University of Delaware

69 Transportatoin Circle

Dover, DE 19904

Sussex County Planning and Zoning Office

2 The Circle P.O. Box 417

Georgetown, DE 19947